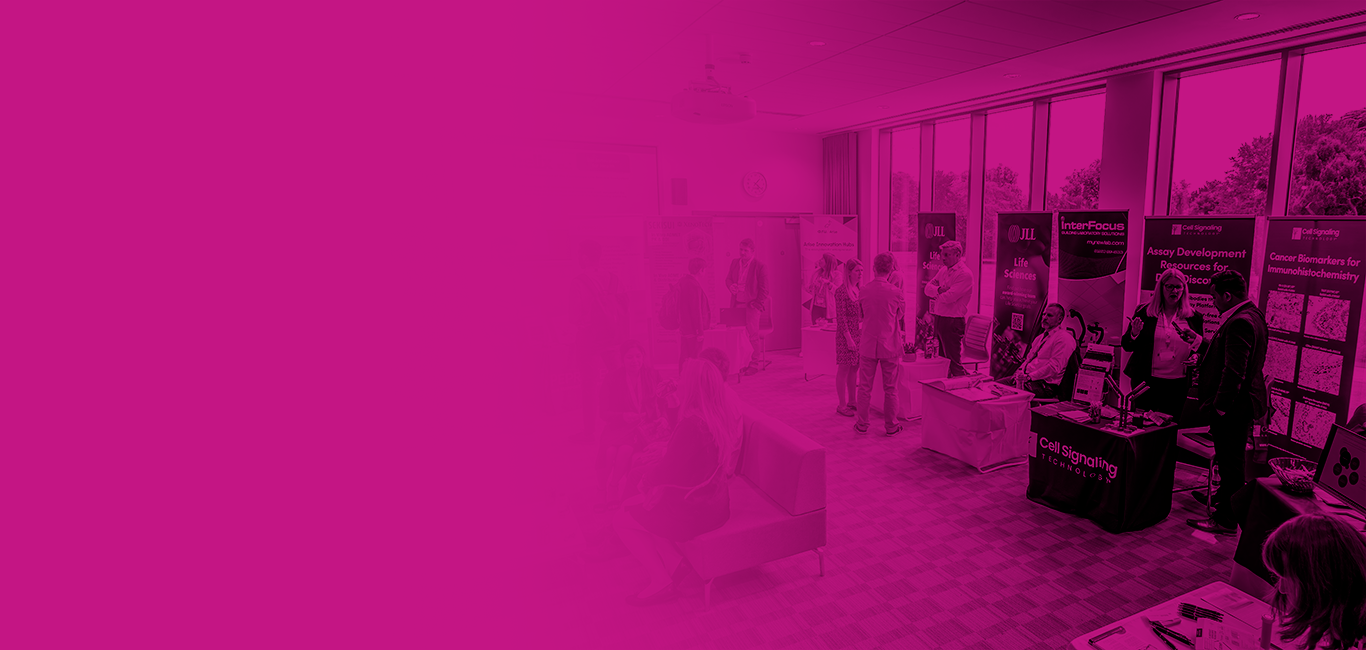 Floor Plan & FAQs
All You Need to Know about Exhibiting
Floor Plan
Floorplan
See the floorplan and exhibitors below.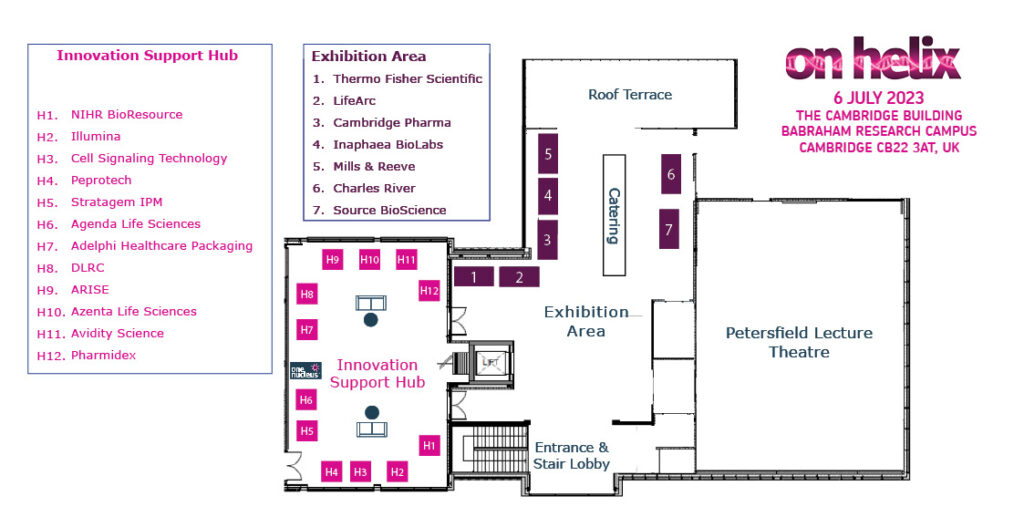 FAQs for Exhibitors
Exhibiting at ON Helix – FAQs
See the FAQs for exhibitors below.
Opening Times
The conference and exhibition opening times are from 08.55-17.00 with the on-site Registration
desk open at 08.30.
Venue Address, Delivery and Collection of Materials
The Cambridge Building, Babraham Research Campus, Cambridge CB22 3AT

Deliveries can be accepted up to 48 hours prior to the event and materials should ideally be taken
away on the day of the event.

All packages must be clearly marked with your stand number and the name and date of the
conference and addressed as follows:

FAO Sophie Cannon
Babraham Research Campus Ltd
The Cambridge Building
Babraham Research Campus
Cambridge CB22 3AT

ON Helix Conference, 6 July 2023
Stand no: # – COMPANY NAME
Sequence of boxes (eg 1 of 5, 2 of 5 etc)
Build Up and Breakdown
Build Up – Thursday 6 July
Access to set-up your exhibition space will be between 07.30 and 08.30 on Thursday 6 July. All stands
must be set-up and all gangways clear by 08.30.

You will need to collect a temporary exhibitor badge from the Reception Desk in order to gain entry to
the exhibition areas.

Access is also available between 17.00-18.30 on Wednesday 5 July. If you wish to set up on this date
we require 24 hour notice to ensure access to the site with name and company details of person
setting up.

Breakdown – Thursday 6 July
Breakdown can commence at 15.45-16.45 on Thursday 6 July.

All exhibitor stands must be clear of the hall by 16:45. Anything left on a stand after this time will be
deemed as rubbish and disposed of by the Conference Centre.

If you are arranging courier collection of goods, these must be completed by close of business Friday
7 July and clearly marked with your return address details.
How big is my exhibition area?
NB There are 2 different exhibition areas

Main Exhibition Area for Sponsors, Stands 1-7 Each exhibition space in the main Exhibition Area, Stands 1-7 are 2m wide x 2m deep, a maximum 3m high, and will be provided with 1 table (not clothed) and 2 chairs. The ceiling height is perfect for pop up stands or pull up banner stands.

Innovation Support Hub Exhibition – stands H1-H12, you can bring a pull-up banner (standard size 800mm wide by 2000mm high). A table and chair will be provided. If you would like to send us a copy of your stand design/plans in advance to check, please email onhelix@onenucleus.com
What electrics are provided?
We don't provide any electrics, there are electric points should you need to plug devices in. Please ensure that you bring your own extension lead to use on the day as they are not available from the Conference Centre.
Can I affix marketing materials to the building?
No signs are to be fixed to the walls by any means inside the building.
How do I register my remaining delegate passes which come with the sponsor package?
Within your package you will have received various combinations of complimentary delegate passes. If
you haven't already done so, please email the full list of names of your group of delegates to
onhelix@onenucleus.com
Is on-site storage available?
The venue has very limited on-site storage. Deliveries can be accepted up to 48 hours prior to the
event and should be taken away on the day of the event or the following day.
Is there Wi-Fi?
Wi-Fi is available on site.
First aid
First aid is available via the Cambridge Building Reception.
Public Liability Insurance Requirement
A condition of our event liability insurance is that we must ask all exhibitors/sponsors/supporters at our events to ensure that they have public liability insurance in place covering their attendance, exhibitors/sponsors/supporters are asked to send a copy of their insurance certificate to onhelix@onenucleus.com