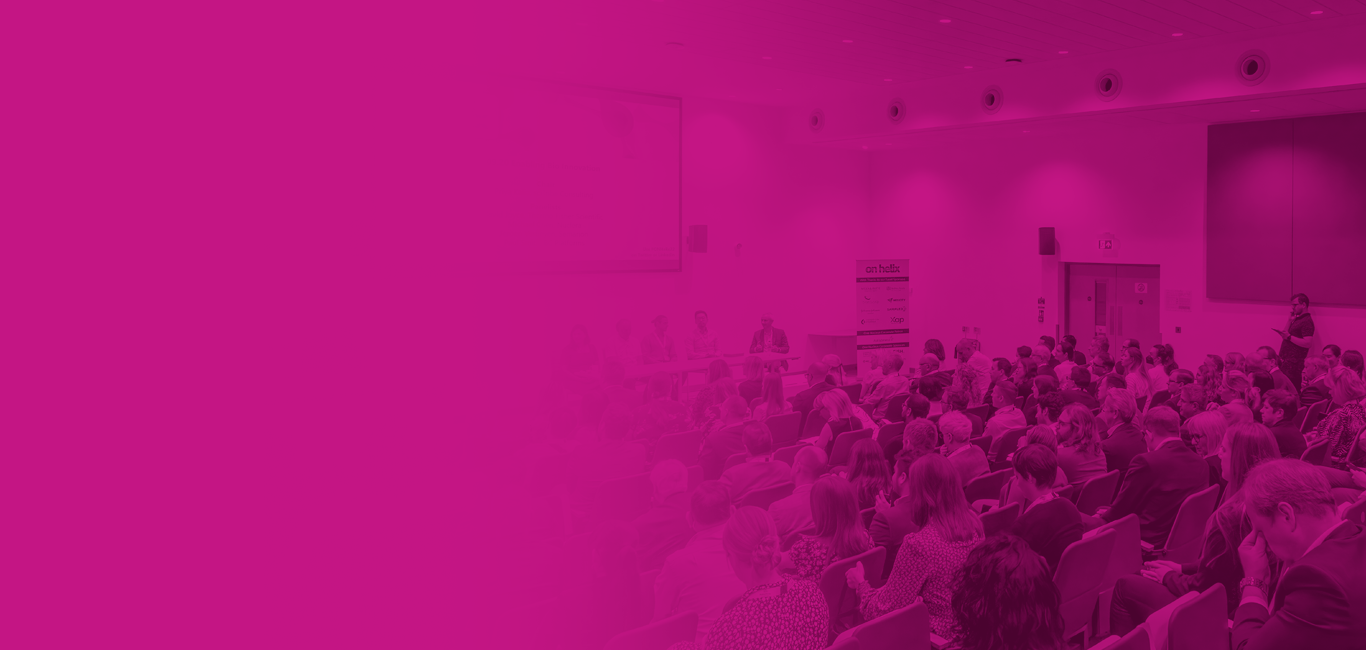 Conference Programme
New Horizons for Bio Innovation

6 July 2023
Welcome

Jon Green, One Nucleus
Keynote Presentation: Creating an Innovation Space

Tim Schoen, BioMed Realty
A keynote presentation looking at the key ingredients in an ecosystem needed to achieve new horizons for bio innovation with a focus on the Cambridge UK Life Science ecosystem.
Keynote Presentation: Why Does No One Discuss Supply Chain?

Paul Grindall, Biocair International
New Horizons in Genetic Screening

Moderator: Priya Kalia, SciTribe
Panellists: Debora Lucarelli, Enhanc3D Genomics, Kate Harvey, Genomics England, Kerry Thompson, BC Platforms, Edyta Wojtowicz, Earlham Institute
As clinical genomics becomes more advanced, where have the biggest impacts been seen, is this tackling unmet need and are we ready for the revolution?
New Horizons in Paediatric Medicines

Moderator: Paul Branthwaite, tranScrip
Panellists: Anna Moore, NIHR BioResource, Becky Bishop, PHTA Ltd, Beatrice Panico, Scendea, Becky Birch, The Brain Tumour Charity
What is helping to encourage more investment into paediatric medicines and what are the tools that will help us to serve this population better?
New Horizons in Precision Oncology

Moderator: Sue Charles, Charles Consultants
Panellists: John Lyons, Astex, Robin Carr, Myricx, Neil Jones, Cancer Research Horizons, Daniel Marshall, MSD, Glen Clack, tranScrip
What are the barriers being encountered and what is missing to ensure translation of the science into therapeutic interventions to offer hope to patients to live healthier and longer lives.
New Horizons in AI-Based Prediction & Prevention

Moderator: Parminder Lally, Appleyard Lees
Panellists: Sven Sewitz, Eagle Genomics, Zizi Imatorbhebhe, Bios Health Group, Krzysztof Potempa, BRAINCURES, Stephen Baker, AstraZeneca, Jürgen Harter, CCDC
AI can be used as an intervention at different stages of disease management, from diagnosis to treatment decisions. But what is the potential of AI to prevent some of the most burdensome life-style related chronic diseases such as heart disease, cancer and diabetes?
Longevity Depends on Understanding the Biology

Moderator: Adrian Toutoungi, Taylor Wessing
Panellists: Janette Thomas, Five Alarm Bio Ltd, Panteli Theocharous, PPD, Daniel Ives, Shift Bioscience, Delphine Larrieu, University of Cambridge, Rebecca Canter, Eli Lilly
With advances in technology such as the use of effective biomarkers and stem cells to replace lost neurons, where is research currently and where should we be hoping to see the most progress?
BioNewsRound Award Winner Announced
When Do Good Neighbours Become Good Business Partners?

Moderator: Mike Ward, Clarivate
Panellists: James Fry, Mills & Reeve, Claire Thompson, Agility Life Sciences, Mike Anstey, Cambridge Innovation Capital, Laragh Jeanroy, RSM, Laura Lane, Eli Lilly
A panel reflecting on the dynamic of the wider ecosystem, and how the interplay between locations could unlock the next wave of innovation and drive the scale of innovation.
Closing Remarks
Tony Jones, One Nucleus
Programme is subject to change